90 Day Fiancé stars Evelin Villegas and Corey Rathgeber are no strangers to drama. The two reality stars, who live together in Ecuador, always seem to have something new going on. In the last year, they feuded with Laura Jallali and her friends, and sparked breakup rumors a few times. Now, Evelin Villegas is making another attention-grabbing move. Villegas recently deleted all of her Instagram photos in the name of a 'fresh start.'
It's never entirely clear where Corey Rathgeber and Evelin Villegas are standing, since the two seem to verge on the edge of breaking up every other day. However, current reports suggest that the two 90 Day Fiancé stars are still together.
However, Rathgeber and Villegas have since suggested that rumors of their split were fueled by Laura Jallali, with whom they feuded recently.
In fact, during a live chat with 90 Day Fiancé blogger John Yates, Villegas said, "It's false what she says about me and what she says about Corey. We both see that she and this other friend were trying to break us up, and we were like, you know what, we're both stepping away from them both."
In early April, Rathgeber took to his Instagram story to write, "[W]e go through some hard times … but we're doing good."
As for Jallali, Rathgeber said, "Actually I haven't even seen her in like three months. She was saying some other stuff too, I don't even know what it was, about me and Evelin's relationship…Once again, false."
Evelin Villegas deletes Instagram photos 
Fans of Evelin Villegas were surprised recently when they saw that the 90 Day Fiancé star had deleted all of her Instagram photos and videos. Some wondered if perhaps she and Rathgeber had finally split, or if something else drastic had prompted the change.
In Villegas' first new post on her freshly cleansed account, she explained her motivation. Villegas captioned a photo of herself wearing a bikini at the beach, "Hi again! I deleted all my pictures cause I needed a fresh start…so many pictures and videos that meant so much to me but some people still come and destroy them with their nasty comments so I decided to delete it all and start again. I really appreciate all the love and support from all of u nice people but for the trolls I say please if you don't like me stay away from my page."
Villegas continued, "Much love to all of you, don't forget it's mental health month, no more trolls! Love you all, I'll love for you guys to visit my little piece of paradise after we win the war against coronavirus."
'90 Day Fiancé' fans react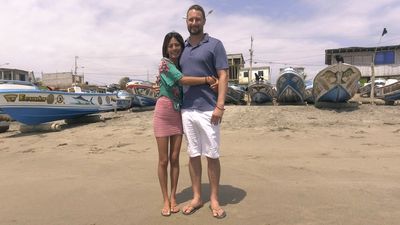 "Please don't worry about what others think. You had some great pictures! Let the haters be haters. You know your worth, you know your story and you know your truth. Hugs!" added another fan.
"It's because of the show and the way you treated Corey. I think once you finally get rid of him it will all go away. He acted like a victim," one commenter opined.