BY SEREN MORRIS 
Adele posted a rare Instagram picture to celebrate her 32nd birthday yesterday, on May 5, and celebrities commented with birthday wishes and compliments.
The singer used the caption to honor the healthcare workers and first responders working during the coronavirus pandemic: "Thank you for the birthday love. I hope you're all staying safe and sane during this crazy time.
"I'd like to thank all of our first responders and essential workers who are keeping us safe while risking their lives! You are truly our angels [heart emoji] 2020 okay bye thanks x"
In the photo, Adele appears to be looking at somebody off-camera, as she poses behind a huge floral wreath. At the time of writing, Adele's Instagram post has more than 2.6 million likes.
Fans and celebrities have been commenting on the post wishing Adele a happy birthday and paying her compliments.
Model and television personality Chrissy Teigan had the top comment with more than 64,000 likes at the time of writing, as she said: "I mean are you kidding me"
The Oprah Magazine Instagram account tweeted: "Our birthday gift should be an Adele 2020 album, yes?!" Adele hasn't released an album since 25 in 2015 but has said that she will release new music in September 2020.
Brazilian YouTuber Hugo Gloss also used the post as an opportunity to ask Adele about her upcoming album: "Honey you can't just show up like this and say nothing! We need new music!"
Actor Kalen Allen commented: "That waist is snatched!" and posted the same comment on Twitter with Adele's photo attached. Fans have been remarking on Adele's weight loss since she posted photos from a Christmas party in December 2019.
YouTuber and makeup artist James Charles commented: "YOU LOOK AMAZING" while Actor and Instagram personality Rickey Thompson said: "That's my girl" with a heart-eyes emoji.
Lil Nas X commented: "why you won" with a heart-eyes emoji and actress Jameela Jamil simply commented with multiple heart emojis.
Singer Leroy Sanchez predicted the attention Adele's post would garner and commented: "And the internet breaks in 3… 2… 1…"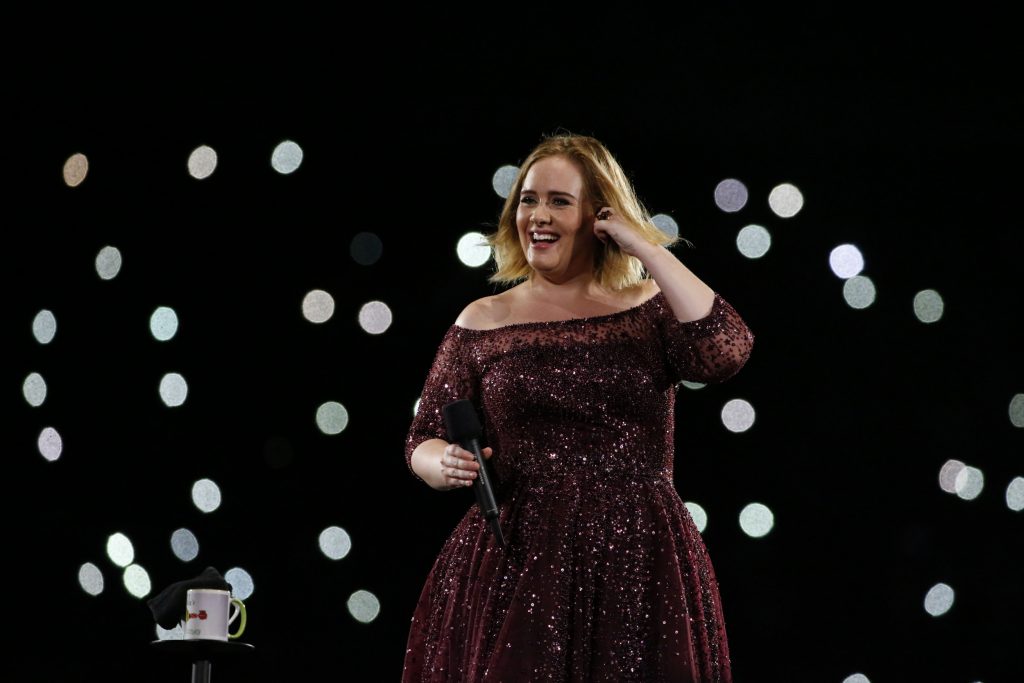 Actress Rita Wilson said: "Happy birthday, Adele. Sending you so much love! Looking gorgeous!" and television personality Olivia Pierson said: "Stunning! Happy birthday gorgeous"
Fashion designers Riccardo Tisci and Virgil Abloh both wished Adele a happy birthday, with Tisci commenting and: "Happy birthday beautiful" and Abloh commenting balloon emojis.
Fans have taken to Twitter to comment on Adele's new look, with Twitter user @popcrayye13 posting four photos of the singer and writing: "Adele may have lost weight but she has always been gorgeous."
Twitter user @jxeker said: "The thing that has me shook the most about Adele's new image isn't even the weight [I don't care] about that, it's the hair and the outfits, she went from 'take me to church' to 'take me for drinks' and I'm here for it."
Fans have been eagerly awaiting a new album and in February, Adele reportedly told friends that the album would be released in September 2020.
But during an Instagram Live last month, Adele commented, "Come on, it's 2020—we ain't meant to get what we want!" and while the singer was referring to technical difficulties, fans are worried this means her album could be postponed.
Adele released her last album, 25, in 2015. It sold 22 million copies worldwide and won Grammys for Album of the Year and Record and Song of the Year for "Hello" in 2016.
https://www.newsweek.com/adele-instagram-happy-birthday-celebrity-comments-1502242