Facebook Inc. (FB) shares are jumping on April 30 by about 5% following its first quarter results. Despite the rally, the company is likely to face several headwinds in 2020 that may pressure operating margins, and in return, reduce earnings per share. Additionally, there is a lack of clarity to how the business may perform since the company did not provide second quarter or full-year guidance.
Still, even with all of that uncertainty and potential margin pressure, the stock is quickly approaching its all-time highs. An odd move higher due to the uncertainty that lies ahead for the company and the broader economy.
Stock Deserve Trade At Lower Earnings Multiple
Despite the lack of clarity, the stock is trading less than 9% from its all-time high at the end of January. The stock certainly is not expensive at current levels trading for around 21 times one-year forward earnings. That one-year forward PE ratio does come towards the lower end of its historical range of 13 to 28 over the past three years.
However, one could easily argue that during a time of considerable uncertainty regarding a business outlook that a stock deserves to trade at a lower price to earnings multiple. While in the face of these uncertainties, earnings estimates for future quarters are likely to continue to decline. It could suggest that at this point, Facebook's stock may have less to gain and more to lose.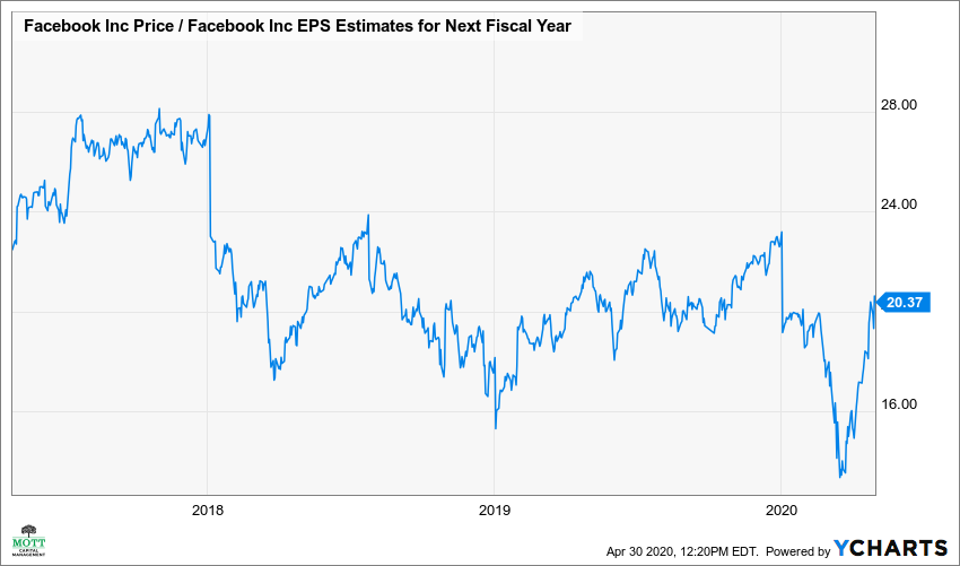 Analysts Cutting Forecast
Analyst forecast that revenue for the second quarter will grow by 1% versus last year to approximately $17.1 billion, while earnings are forecast to decline by more than 27% to $1.45 per share. For the full year, analysts forecast earnings will fall by over 10% to $7.68, with revenue expected to climb by around 9.8% to $77.6 billion.  However, 2021 holds promise for improvement, with earnings forecast to rise by 30.4% to $10.01 per share as those estimates have been trending lower.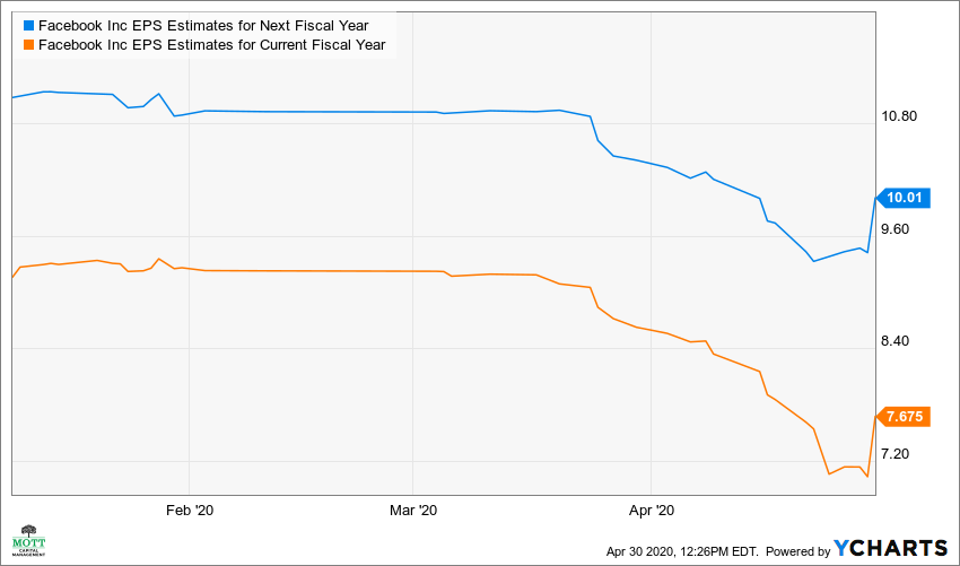 Beating Significantly Reduced Expectations
For the first quarter, Facebook was able to beat significantly reduced earnings and revenue estimates. The company reported revenue of $17.7 billion, which was 3% better than analysts' estimates. However, that was significantly worse than what analysts had been forecasting on March 17 when they stood at $18.5 billion. Additionally, earnings came in at $1.71, in line with expectations, but again significantly below estimates on March 17 of $1.99 per share.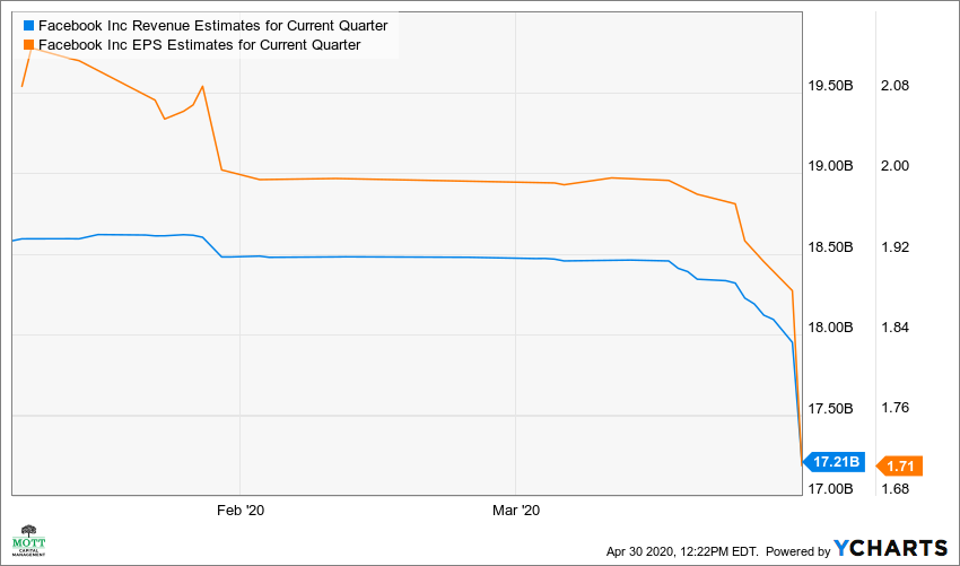 Cutting Expenses
The one benefit that may help to offset some of these uncertainties is that the company plans to spend less in 2020, lowering its expense forecast to $54 billion at the midpoint of the range, from $57.5 billion. Additionally, the company is cutting back on capital expenditures to $15 billion at the midpoint of the range from $18 billion. But the reductions in spending are still likely not to be enough, as the company is forecasting a negative impact on its operating margins.
Should the coronavirus spread come under control, and the economy can pick up steam, then it seems likely that advertiser spending will improve. As a result, Facebook could see a surge in business, thus helping to lift its revenue, earnings, and stock. But in the absence of that recovery, the shares may struggle.
Michael Kramer is a financial market strategist and the portfolio manager of the Mott Capital Thematic Growth Portfolio.
Mott Capital Management, LLC is a registered investment adviser. Information presented is for educational purposes only and does not intend to make an offer or solicitation for the sale or purchase of any specific securities, investments, or investment strategies. Investments involve risk and unless otherwise stated, are not guaranteed. Be sure to first consult with a qualified financial adviser and/or tax professional before implementing any strategy discussed herein. Past performance is not indicative of future results.
Michael KramerContributorSocial MediaFounder of Mott Capital Management