Katie Mather
When Logan Paul's 17 million Instagram followers saw his most recent post, they thought nothing of it.
Paul had added a photo gallery congratulating his friend Mike Majlak on the release of his book, "The Fifth Vital." An ad for the book can be seen in the background of the first picture.
Low on supplies? We're regularly updating our list of retailers that are still selling household essentials, including toilet paper and hand sanitizer.
Unfortunately for Paul, fellow YouTuber James Charles seems to have an eagle eye and excellent memory when it comes to billboards in LA with his face on them.
Charles revealed that what looked like a blank billboard in Paul's Instagram was actually an edit job to erase a poster for Charles's new show, "Instant Influencer."
"Excuse me @LoganPaul I don't f****ing think so!" Charles tweeted, along with a side-by-side of Paul's Instagram and a photo Majlak had posted on his Instagram story which included the "Instant Influencer" ad.
"This means war," Charles added.
Knowing Twitter would not be enough, Charles also went to Paul's Instagram and commented, "YOU DID NOT BLUR OUT MY BILLBOARD BEHIND HIM OMFG."
Paul responded with an explanation on his Instagram story, saying he didn't think Charles would notice and now he feels bad.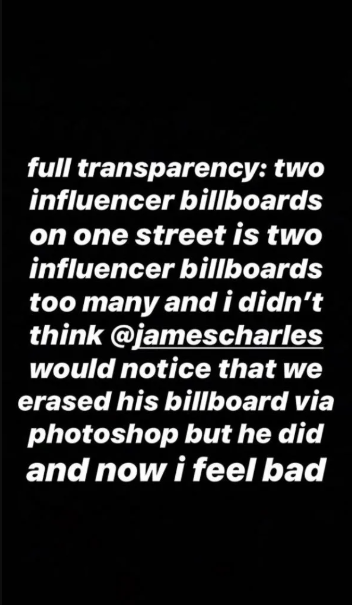 Paul then replied to Charles's tweet with a solution.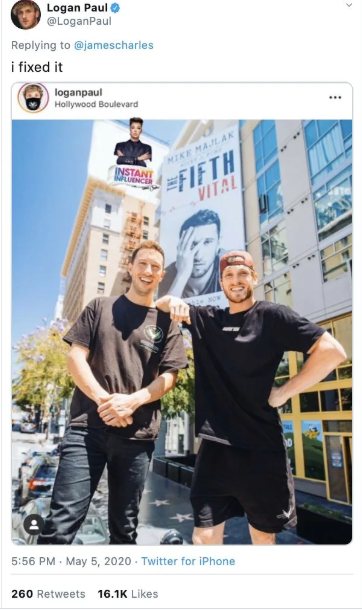 But perhaps Charles was coming off harsher and angrier than he actually was. He responded to a fan saying "don't start a war with Logan" by explaining "we're friends."
https://sports.yahoo.com/2020-05-06-james-charles-skewers-logan-paul-for-instagram-post-this-means-war-24220785.html