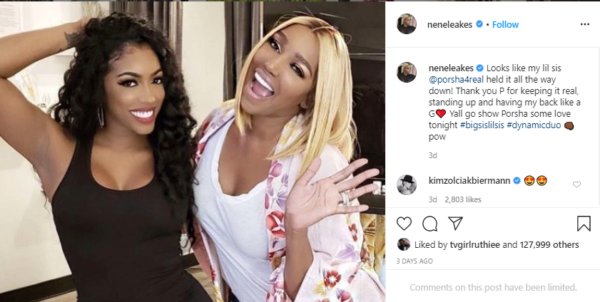 Nene Leakes, a reality star of "The Real Housewives of Atlanta," mended her friendship with her co-star Porsha Williams on a cast trip to Greece during season 12. After feuding for nearly all of season 11, Leakes apologized to Williams for supposedly fat-shaming her six days after Williams gave birth to her daughter Pilar Jhena' McKinley.
On Monday, May 25, Leakes posted a photo on Instagram that showed her smiling with her mouth open next to the 38-year-old Williams. Williams hit her angles by placing one hand in her wavy hair while the other was wrapped behind Leakes' lower back. Leakes, who sported blonde hair with dark roots, waved her hand at the camera. The "Glee" actress hinted in her caption that the two were thick as thieves.
Porsha Williams (left) and Nene Leakes (right) (Photo): @neneleakes/Instagram
She wrote: "Looks like my lil sis @porsha4real held it all the way down! Thank you P for keeping it real, standing up and having my back like a G❤️ Yall go show Porsha some love tonight #bigsislilsis #dynamicduo ??pow."
Leakes posted her message to Williams just one day after part three of the reunion aired on Bravo. During the final episode, Leakes' former friend Yovanna Momplaisir claimed Leakes told her to secretly record conversations of the cast. Momplaisir alleged that Leakes wanted to see if the cast members were talking about her behind her back. Prior to the last episode, the 52-year-old Leakes walked out of the event and expressed in an Instagram post that she felt attackedby her former castmates.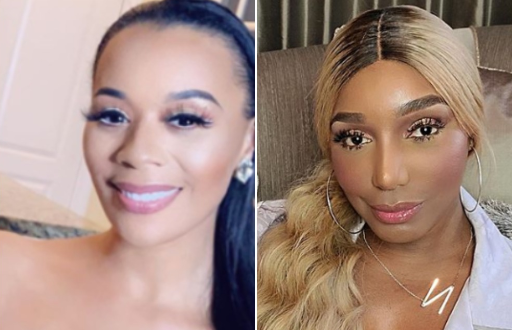 Yovanna Momplaisir (left) and Nene Leakes (right) at the "RHOA" reunion (Photo): @Yovanna Momplaisir/Instagram, @neneleakes/Instagram
Since Leakes did not return for the final installment and was unable to defend herself against Momplaisir accusations, Williams stood up for her. Williams implied that Momplaisir was not telling the truth and hinted that the Clark Atlanta University alumna was sneaky for recording the ladies.
Over 100,000 people positively reacted to Leakes' photo, with many fans gushing over her friendship with Williams.
"Porsha is a real one."
"LOVE BIG SIS & LIL SIS !!! ?."
"Team porsha and nene?."
"That's what real women do!!!!????."
"I really love y'all two they jealous cause y'all keep it real."
"@porsha4real thanks for having @neneleakes back ?."
"You should have never left."
"Porsha did that ?."
The ladies of the "RHOA" apparently signed their contracts after the reunion. TMZ reported on Memorial Day that Momplaisir secured a peach and will return as an official cast member next season. Leakes has yet to address the rumors pertaining to the new cast changes.