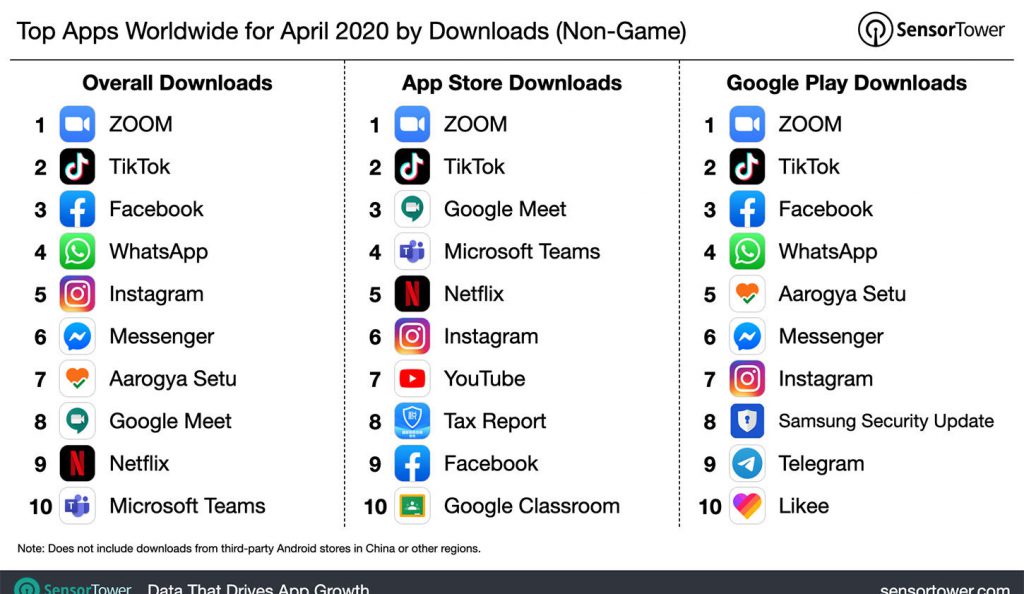 It has been around 10 days since April was left behind, and Sensor Tower has released a list of the most downloaded apps in the past month, based on estimates. Communication applications marked the lists.
Some changes were also observed in downloaded applications due to the coronavirus epidemic and people's closure to homes around the world. Sensor Tower shared the 10 most downloaded applications of April based on forecasts.
There were some changes in the applications that people downloaded and used on their smartphones during the quarantine process. As you can imagine, video chat applications were among the most downloaded apps last month.
Most downloaded apps in April 2020
In April 2020, ZOOM was the most downloaded application in both Google Play and App Store. The application, which received 131 million downloads, has grown 60 times compared to April 2019. 18.2% of the downloads came from India and 14.3% from the USA.
The second most downloaded application in non-game applications was TikTok. TikTok was downloaded 107 million times in April 2020 and experienced a 2.5-fold growth in a year. The country where the application was most downloaded was India with 22%, while the USA followed ZOOM with 9.4%.
From the third row, the most downloaded applications in the App Store are listed as follows; Google Meet, Microsoft Teams, Netflix, Instagram, YouTube, Tax Report, Facebook and Google Classroom. The most downloaded applications from the third place in the Google Play Store are listed as follows; Facebook, WhatsApp, Aarogya Setu, Messenger, Instagram, Samsung Security Update, Telegram and Likee.
When we look at the most downloaded applications in the past month, we can say that online communication applications have a dominance. After ZOOM and TikTok in total, the most downloaded applications were Facebook, WhatsApp, Instagram and Messenger. In addition, Microsoft Teams was able to enter this list for the first time.
The data was collected by Store Intelligence on the App Store and Google Play between April 1, 2020 and April 30, 2020. Previous downloads have been excluded. Data from third-party stores was not included in Android estimates. But different versions of the same app like Facebook and Facebook Lite were combined.