One popular way to make money on the internet right now is to make an OnlyFans account.
The social media site launched in 2016 but became hugely popular in 2019, with people all over the world posting content onto the site. To view the content, you must subscribe to the account and pay for it.
Popular YouTuber and internet personality Tana Mongeau has just made her own OnlyFans, urging her followers to pay to view her secret content.
OnlyFans has become synonymous with people posting explicit content, and that's exactly what Tana hinted in an Instagram post that she would be posting.
But many people on Twitter have argued that they think her OnlyFans is a scam, because she's making people pay for the same content she is happily posting onto Instagram for free.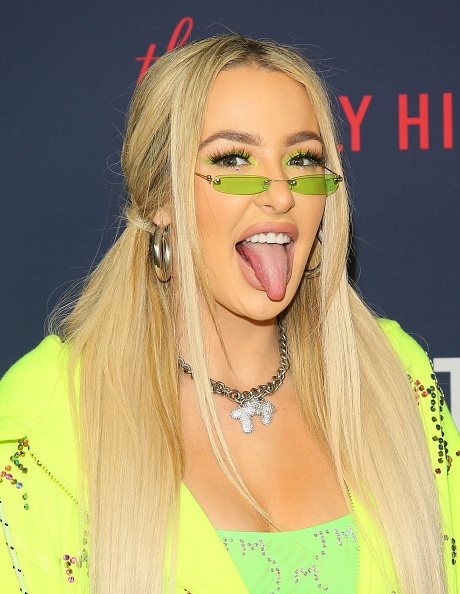 WHO IS TANA MONGEAU?
Tana Mongeau is an American Internet personality and YouTuber with over 5 million subscribers.
The 21-year-old from Las Vegas, Nevada is also a musician and a model, and has almost 3 million followers on TikTok.
TANA MONGEAU HAS MADE AN ONLY FANS
The YouTuber and social media star has now found a new platform to engage with her fans in a very different way.
Tana has just set up an Only Fans account called 'Tana Uncensored' on which she aims to post things that you wouldn't see anywhere else.
OnlyFans is a platform that allows people to post any content they like, and people have to pay to view your posts. It has become known as a site where people can post and subscribe to explicit adult content.
In an Instagram post she wrote:
"Tana Uncensored is here. Link in bio to see me in a way you truly never have before."
Then, in another post she updates her fans saying: "Tana Uncensored has been life changing… the possibilities of where this can go is endless. Stay tuned."
Nobody knows exactly what she aimed to post on there, but the app is known for women posting nudes and revealing images, and Tana wrote on her Instagram: "I mean if I'm posting this on IG imagine what's gonna go on there".
WHAT WILL SHE POST ON ONLY FANS?
Tana is very open on Instagram, and will happily post revealing photos for the world to see for free on there.
Fans on Twitter are arguing that she is essentially making users pay and subscribe to view the exact same content that she posts on Instagram for free.
One Twitter user wrote: "Tana Mongeau is really making people pay $200 a month for an only fans that has only one picture which is PG-13 and up on her instagram huh….she is a whole scam artist."
https://www.hitc.com/en-gb/2020/05/27/youtube-what-is-tana-mongeau-posting-on-onlyfans-twitter-users-think-its-a-dud/